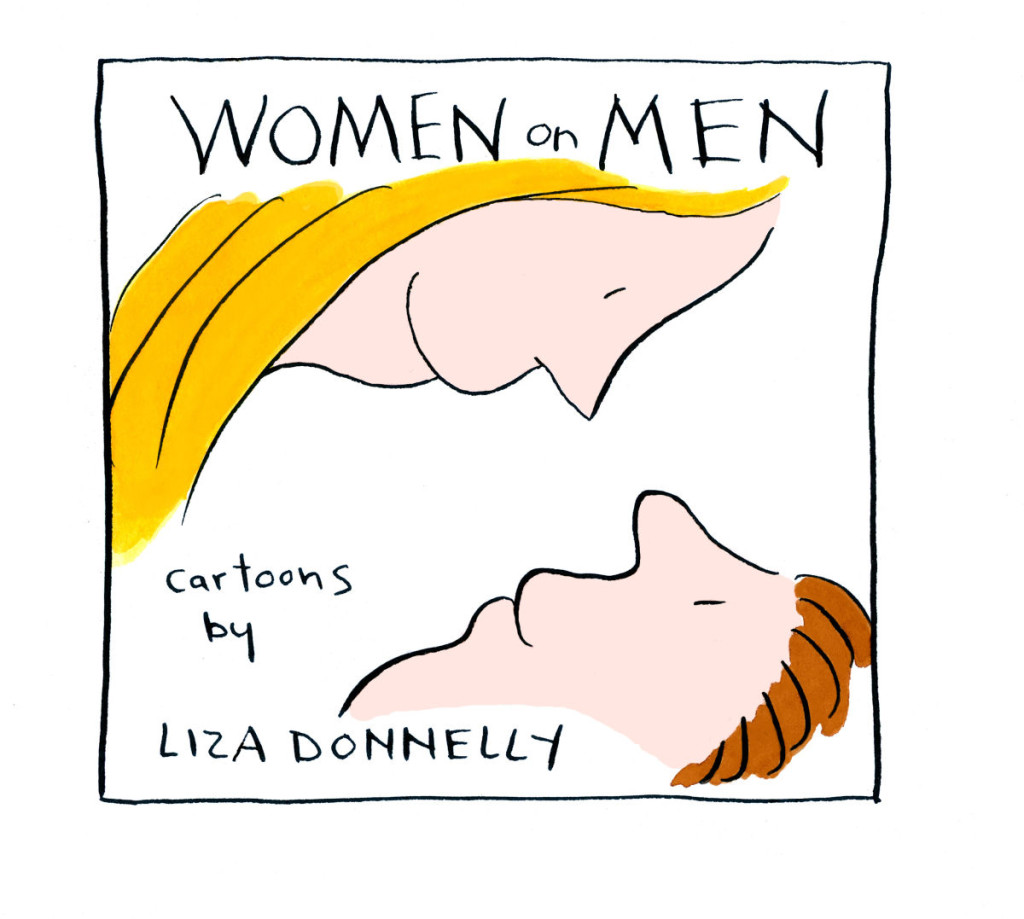 I am proud to announce the publication of my new collection of cartoons and writing. It has been years in the making, and is full of cartoons — new ones and ones from my thirty year career. It is an ebook, and is available in all formats. To see how to order, click HERE.  To look inside the book, you can go to Amazon, or my blog for a sample of cartoons.
Below is the press release from the publisher, Narrative:
With her finger on the comedy of the sexes,
Liza Donnelly introduces her new cartoon collection by revealing secrets: "This is the humor that in previous decades we had to keep to ourselves, that we confined to groups of women."Not anymore.It is with great pleasure that Narrative Library announces the release of Liza Donnelly's latest book, WOMEN ON MEN.In courtship, dating, sex, and marriage, Donnelly finds the humor in our illusions, self-deceptions, posturings, and earnest yearning for each other. Her graceful ability to portray our hearts' desires has made her a welcome speaker at the United Nations, a cultural envoy to the Middle East, and a contributor to TED talks. Her work as a world-renowned cartoonist also led her to help


found Cartooning for Peace.
Women on Men is an insightful, timely look at women and men in an age when the old conventional gender roles are falling away and new ones are being discovered and defined—women wisely taking the lead. As thoughtful as it is funny, Women on Men can be read as satire, provocation, aphrodisiac, love song and lament. Read at random or from front to back, it is sure to delight all who open its bright pages and find themselves in Liza Donnelly's world.

PRAISE FOR LIZA DONNELLY:"Donnelly's cartoons are the best kind of funny—sly, smart, and right on the money. They are great social commentary as well as great fun."  —Susan Orlean"Liza sees people clearly. She has a terrific ear and a terrific eye."  —Roz Chast"Liza makes this world not just a funnier place, but a better one too."  —Planet Green
"A hilarious, thought-provoking, and timely book that looks at gender differences from a brilliant woman's perspective."  —Wendy Liebman
Hear Liza speak with Joe Donanhue on WAMC Northeast Public Radio.
[audio:http://cpa.ds.npr.org/wamc/audio/2013/12/lizadonnelly.mp3]
Hear Liza speak with Jon Negroni of Thriveworks