You can contact Liza at liza@lizadonnelly.com
Liza is happy to deliver talks on a variety of topics, and almost always uses cartoons with her talk. So if you want a fun and meaningful speaker, contact Liza to hear more details.  Each and every talk is tailored to individual clients' needs.
Liza has spoken in the United States and abroad, including at TED, The United Nations, The New Yorker Festival, and many other venues. Her clients have included major corporations, colleges and universities. Liza was the commencement speaker for the Graduate School of The University of Connecticut in 2014, where she also received an honorary degree.
Partial List of clients and speech topics:
Deutsche Bank , Women in Asia Business Conference, Singapore;  "Men Matter" 2015, 800 audience
University of Rhode Island Honors Colliquium, 2015. 400 audience. "Global Politics, Gender and Humor"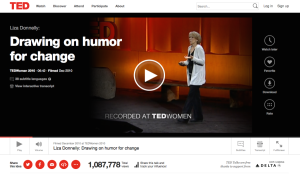 The Norman Rockwell Museum, "The Art of Cartooning" 2015, 100 audience

OwnIt Summit, 2015, Georgetown University, audience 800
Marist College, "Cartoons In The Age Of Isis" 2015, 80 audience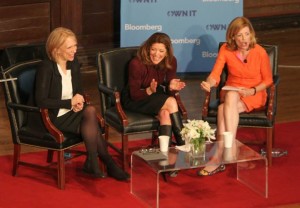 American Association of Editorial Cartoonists, ""Politics Unusual: Editorial Cartoons In The New Yorker, Past and Present" 100 audience

Festival of Editorial Cartoons L' Estaque, France. "Live Together, Laugh Together"
Vanderbilt University: "Humor and Diplomacy" 2014: 500 audience
Castilleja School: "Creativity and Diplomacy" 2014; 450 audience.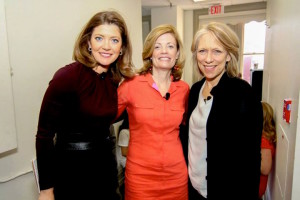 TEDxBayArea: Interna
tional women entrepreneurs: "The Body Mind Connection" 2014.
University of Richmond; "Using Humor for Change" 2014
DLA Piper Law firm: "Women and Leadership" 2014; 300-400 audience;
Business Innovation Factory, Providence, RI: "Innovation and Creativity" 2014; 400 audience;
Brown University : "Creativity in Social Business" 2014; 50 students;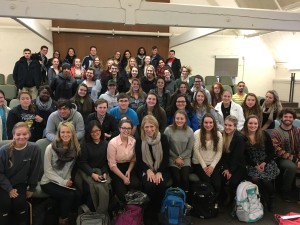 University of Connecticut Commencement Address, delivered to G
raduate School, "Listening In Life"
State Department: Israel, Palestine, Macedonian Embassies/Consulates: Freedom of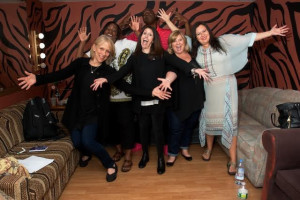 Speech, Women's Rights, 2013. Various groups from 10-100.
Verizon Wireless: "Mentors in Life" 2013; 500 audience
Wyoming Sheridan Press Conference 2013: "Mentors in Life" 400 audience

American Association of Marriage and Family Therapists 2013: "The Importance Of Humor" 500 audience
Brookdale Community College; "How Humor Can Change the World" 2013, 300 audience
Forum d'Avignon, France: "Women and Power in Culture" 2013, 300 audience,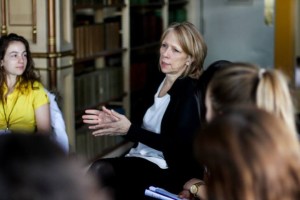 American Association of University Women: acceptance speech for award 2012. 300 audience; travel and expenses.
Bermuda Chamber of Conference: "The Power of Humor" 2012. 200 audience;
TED : "Drawing On Humor for Change" 2010. Global audience, 500 in person, thousands streamed online.
TEDxBayArea, to: International Women Entrepreneurs; "Believing In Being There" 2011. 400 audience plus hundreds more streamed online.
TEDx NYC, "History In Cartoons" 2011. 100 audience.
Norman Rockwell Museum "The Art of William Steig" "Women Cartoonists of The New Yorker" 2005, 2010 . 200 audience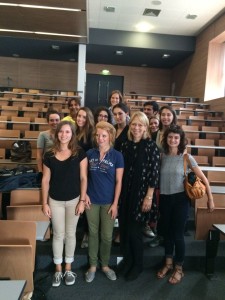 Haystack Mountain School: "Creativity"   2010. 70 audience.
Politics and Prose, Barnes and Noble: "Women Cartoonists of The New Yorker" 2010
Omega Institute: "Women and Humor" 2008, 2010
The United Nations: "Unlearning Intolerance" 2006
Vassar College: "Women and Humor" 2005
Bard College ; "Women and Humor" 2005
Chicago Art Institute: "Women and Humor" 2005
Earlham College: "Women and Humor"
American Association of Editorial Cartoonists: "Women in Editorial Cartooning" 2000
Cartoon Art Museum, NYC: talk about my own work during solo exhibition, 2012
The New Yorker Festival: New Yorker cartoons
Society of Illustrators, many appearances