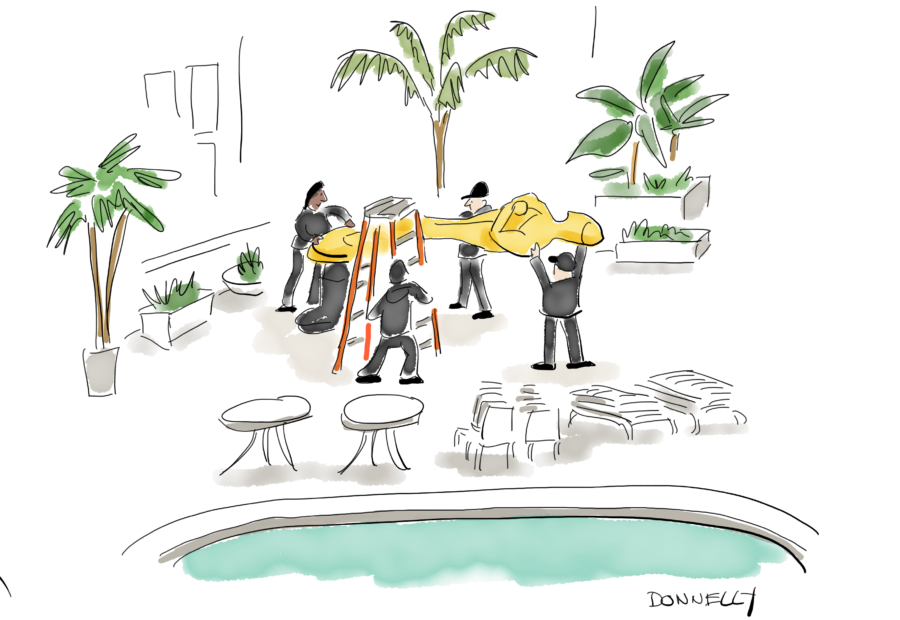 I didn't realize how much I needed to take a few minutes from reality (i.e. politics) and celebrate great storytelling and great performing. I love movies, and I love watching the Academy Awards every year. This year will be my second year attending them in person?—?this time, as resident cartoonist for CBS. I will be behind the scenes, on the red carpet and in the media press room.
As always, I draw what I see, and more often than not it's the behind the scenes. That is perhaps what I love to draw most. People working away at this great show, usually without recognition. It takes a lot of people.
I attended the rolling out of the red carpet?—?a wild event with press dashing after the rolling carpet with their cameras and microphones (and me with my iPad and stylus). I was invited into the Dolby Theater to watch the Oscar production designer, Derek McLane, work on the construction of his set. And I got a peek at the food that will be served by Wolfgang Puck and his staff at the Academy Ball.
Security, as always, was very high. Scanners, barriers and men and women in dark glasses wearing badges were everywhere. The Academy appears to run a tight and smooth ship?—?and everyone is in a good mood.
There was the actual red carpet, with gowns and tuxedos and cameras. It was mobbed with people?—?actors, writers, producers, and all their family and friends, decked out in their Oscar finest. I didn't see any really strange gowns or tuxedos, but I saw some beautiful colors and shapes and people.
The show itself was great, and Jimmy Kimmel a wonderful, genuine, funny host. Ultimately, it will be one to remember because of the snafu at the end, giving the best picture award to the wrong movie!
It's really fun, here they all are. Continue to follow me and CBS This Morning on twitter and Instagram for more adventures. @lizadonnelly @CBSThisMorning
Trackback URL: http://lizadonnelly.com/archives/live-drawing-2017-oscars-location/trackback